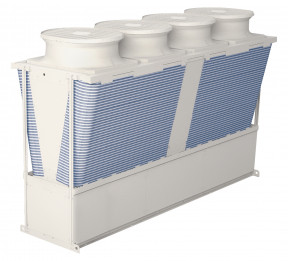 Mitsubishi Electric has added new 150kW and 180kW modules to its existing advanced range of high efficiency, inverter-driven, e-series modular chillers to expand the 'off-the-shelf' offering to the UK market.
The e-series offers market-leading low noise levels and exceptional part-load efficiencies with an operating range between 8-100% capacity to provide controllable, energy efficient cooling and heating with reduced plant size and a host of advanced features and benefits taken straight from the company's experience in the air conditioning industry.
Available as cooling-only or heat pump versions, the new modules included a unique Y-shaped design to increase the intake of air and offer a greater heat exchanger surface area, delivering a highly efficient operation. With four inverter compressors operating as two pairs in each module and the ability to connect up to 6 individual modules into one system, the e-series chillers provide the perfect solution.
"We've had significant interest in these modular units since we launched the e-series three years ago and these larger modules expand the number of applications and buildings that can benefit from these advanced chillers" explains Graham Temple, Marketing Manager.
The new units have an even smaller footprint than the existing 90kW e-series modules and each slim unit can be positioned in a bank of up to six connected units using the same internal header, saving on piping space and equipment costs. This also allows for smaller plant space and easier servicing than traditional chillers.
The models deliver market-leading levels of efficiency with a Seasonal Efficiency Energy Rating (SEER) of up to 4.62 and the ability for units to operate on their own or in tandem with others. With full rotation and back-up function available, the operating time for each module in the same system can be equalised to prolong operating life and performance.
The e-series also achieves some of the quietest noise levels on the market which is increasingly important in inner city locations. These low noise levels are achieved through both the unique construction and design of each unit as well as the advanced component technology within each chiller, which is also easily integrated within new and existing systems using BEMS control.
"When you compare the UK market to the Japanese market, which is dominated by modular inverter-driven systems, you can see that the UK is heading for high performing, low carbon solutions that can also help reduce space requirements", adds Temple.
These two new modules offer exceptional features to aid design, specification, installation and on-going operation, which include a two-stage cooling circuit, with both sets of compressors in separate refrigerant circuits, serving separate plate heat exchangers.
Each of the two refrigerant circuits has four separately controlled, inverter-driven DC fans, allowing for more precise control to save energy and optimise system efficiency. The in-built internal header pipes helps to simplify design, installation and maintenance and makes the e-series range modular and suitable for almost any situation.
Further details on the comprehensive range is available by visiting the dedicated website www.mechillers.co.uk, emailing chillers@meuk.mee.com, or calling 01707 282880.