Intelligent heating
The Mitsubishi Electric range of Ecodan air source heat pumps is one of the most advanced heating systems available for homeowners and businesses. With an A++ ErP Energy Rating Label across the range, this is the ideal clean and green intelligent heating solution.
The entire line up is also certified by the Microgeneration Certification Scheme (MCS) which certifies that it's an intelligent technology that produces heat from a renewable source. This is a key requirement to be eligible for the Boiler Upgrade Scheme.
Highly versatile and compatible
Whether installed in small flats, or large detached properties, Ecodan can reduce running costs, lower CO2 emissions and offer reliable, sustainable heating and hot water all year around for the majority of homes and small commercial properties.
Ecodan can be installed to replace an existing heating system or work alongside it in a hybrid set up. It can be installed into a new build or renovation project and is even compatible with under floor heating. It is also simpler to maintain than other heating systems such as gas, and with professional maintenance it can offer an average lifespan of 15 to 20 years.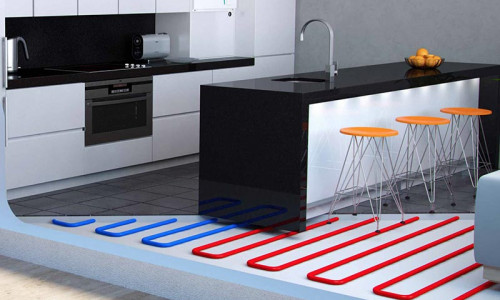 Reduce CO2 emissions and Save on running costs
Ecodan air source heat pumps have achieved the highest band of true efficiency as part of European regulations for Energy labelling and EcoDesign. The A++ rating means extremely energy efficient, making Ecodan effective in saving on running costs and efficient in reducing CO2 emissions.
Advance energy monitoring
Energy monitoring comes as standard on all Ecodan models. Mitsubishi Electric has also developed Energy Monitoring Packs (EMP's) to suit every domestic application. These packs are ideal for users needing exact consumption figures, such as housing associations.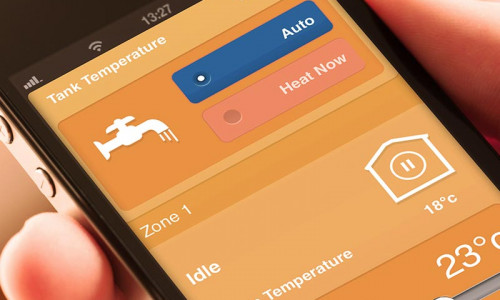 Service and maintenance
Mitsubishi Electric has developed a range of service and maintenance plans to support Ecodan heating systems and give homeowners, housing associations and self-builders affordable peace of mind.
Three levels of cover are available to provide the absolute confidence that the Ecodan heating system will be professionally maintained and, in the unlikely event of a fault, quickly repaired by our highly skilled engineers.
You can find out more about these plans here.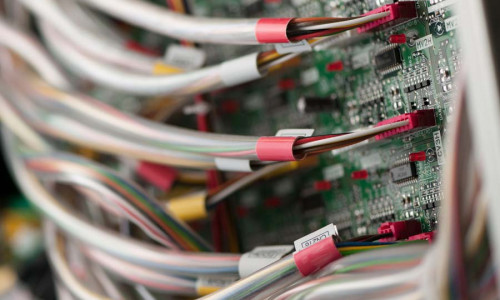 How an Ecodan system works
1. The outdoor unit
Only requiring electricity and water connections, the outdoor unit is easy to install and can be situated discretely outside your home or in your garden. Ecodan upgrades freely available heat energy from the air and transfers it to your home to provide hot water and heating for radiators and / or underfloor heating.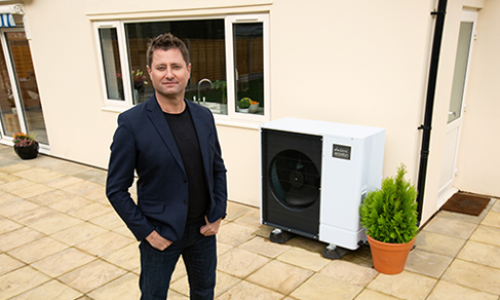 2. The hot water cylinder
Ecodan provides your home with a continuous supply of hot water via a dedicated hot water cylinder - just like a standard boiler. These cylinders are specifically designed to integrate with the outdoor unit, however in some cases it can also work with your existing hot water cylinder.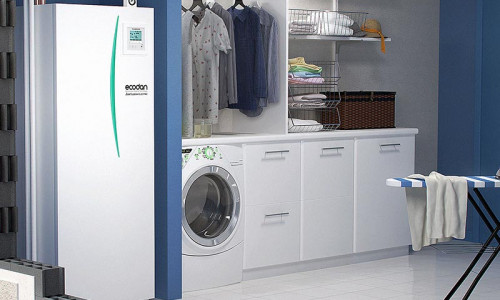 3. Energy efficient control
With Ecodan you have the choice of a range of controls including an advance wireless controller, which is a simple room controller with features including holiday mode. You can also download our web-enabled MELCloud controller app to any smart device which allows you to control your system and monitor its performance remotely.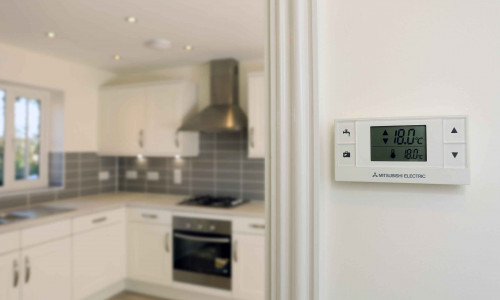 Ecodan Ambassador George Clarke
The way we design, build, heat, power and recycle our homes needs to change and change quickly and renewable heating is an important part of our future. I'm therefore delighted to associate myself with the market-leading brand of heat pumps which are built here in the UK and which can help reduce energy bills and lower emissions for almost any home
Ecodan air source heat pumps use 1kW of electrical energy input and take 2.2kW of low temperature renewable heat energy from the air, producing a high efficient 3.2kW heat energy output. This heats refrigerant in the system which in turn heats water for domestic hot water and space heating.
PUZ
The Ecodan PUHZ monobloc air source heat pump range includes:
Best suited for:
All types of home
Small commercial buildings
Other residential premises
QUHZ
The Ecodan QUHZ is our latest air to water heat pump system and is the ideal for properties with a low heating capacity. Available in
Best suited for:
Small homes
Apartments/ flats
Homes with a high domestic water requirement
Hybrid systems
Hybrid Ecodan heating systems work in tandem with an existing boiler.
Best suited for:
All types of home
Small commercial buildings
Other residential premises