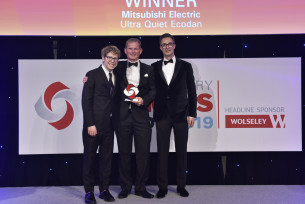 Mitsubishi Electric's innovative and stylish Ultra Quiet Ecodan air source heat pump has just been awarded the 'Domestic HVAC Product of the Year – Heating Units' at the H&V News Awards.
According to the judges, the focus on low noise levels coupled with the attention to design and performance were key factors in Ecodan's success.
"We are delighted to receive another prestigious accolade for Ultra Quiet Ecodan and this joins the recent win at the ACR News Awards, being Highly Commended in the ACR Journal & Heat Pump Awards and shortlisted in two other industry awards," explains Max Halliwell, communications manager for renewable heating at Mitsubishi Electric.
Ultra Quiet Ecodan is the latest market-leading air source heat pump from Mitsubishi Electric, and provides reliable, renewable heating and hot water production for a wide range of installations. With a sound pressure level of just 45 dB(A), Ultra Quiet Ecodan makes passing Permitted Development requirements much easier. As heat pumps are adopted in more homes to help meet the government's target of one million installations a year by 2030, noise will become an increasingly important factor.
"Our Scottish factory has spent the last 10 years refining Ecodan into this super quiet heat pump that specifically addresses the increasingly important issue of noise in our built-up environment," adds Halliwell.
Ultra Quiet Ecodan is available in 8.5kW and 11.2kW sizes with market-leading sound levels that are three times quieter than previous models. Further details can be found on the dedicated website:
PR Contact
Nick Ringrow
Brands2Life
mitsubishielectric@brands2life.com