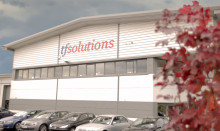 UK, 18 January 2019 – Mitsubishi Electric has added TF Solutions Ltd as a new Value Added Reseller (VAR) to the company's family of sales partners, expanding its coverage within the UK market.
"Our mission is to work together for success and this principle has allowed us to remain a vital part of our customer's successes over the past eighteen years," explains Andy Cherrill, Managing Director. "We see this new association with Mitsubishi Electric as continuing on that path towards success, by allowing us to offer our customers the very best products available."
TF Solutions started trading in 2001 and has experienced significant levels of growth, now making it one of the leading Air Conditioning and Refrigeration distributors in the UK. The company operates out of four branches in the North West, Yorkshire, Midlands and South East, with a fifth soon to open in the South West.
"The team at TF Solutions are dedicated to the highest levels of customer service and support, which matches our own demand for high standards in all we do," comments Deane Flint, Branch Vice-President and Joint Divisional Manager for Mitsubishi Electric.
TF Solutions will offer the complete range of Mitsubishi Electric products including: City Multi, Mr Slim and M-Series air conditioning, Lossnay ventilation and Controls products; Heating Products; Air Handling Units; and e-Series Chillers.
"Mitsubishi Electric is a pioneer in the UK HVAC market with products that deliver energy efficient solutions for almost any situation," adds Andy Cherrill, "We are delighted to now be part of the family and look forward to enhancing the service we can offer our own customers."
TF Solutions will offer complete, competitive solutions across the entire air conditioning product range. For more information visit www.tfsolutions.co.uk.
PR Contact
Nick Ringrow
Brands2Life
mitsubishielectric@brands2life.com