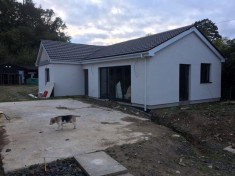 UK – 13th January 2020
Mitsubishi Electric has announced the winner of its Self-Build Competition, which offered one keen self-builder the chance to meet with architect and TV presenter George Clarke for an advice session as well as winning a market-leading renewable heating system.
The winner, Helen Thomas, from Powys in Wales, entered the competition after purchasing a 3.5-acre plot of land with no prior construction experience, to build a new home for her and her young son. Helen applied for planning permission to develop a new building, and with a budget of £80,000 she has built a three-bedroom bungalow, due to be completed this summer.
In February, Helen will spend a day on site with George Clarke, making use of his expertise in designing small, affordable spaces. They will discuss how the building's interior can be as comfortable and functional as possible, and how she can achieve a totally energy efficient home. As part of her design, Helen is already using triple glazed windows and doors, external insulation and rendering and a prefabricated frame with Magnesium Oxide SIPS to improve her home efficiency.
Along with the advice session with George Clarke, Helen will also have an Ecodan air source heat pump installed into her home later this year. Ecodan is the market-leading renewable heating alternative to gas or oil and will contribute to a more sustainable, energy efficient home, helping reduce both energy costs and the home's impact on the environment.
For more information about the Mitsubishi Electric Ecodan range, visit: http://ecodan.co.uk