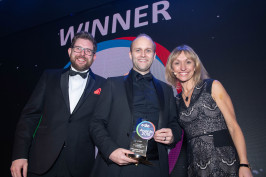 Mitsubishi Electric's commitment to reducing the impact of air conditioning on the environment has been recognised at the recent edie sustainability awards. The company's R32 Hybrid VRF won the edie Low Carbon Initiative of the Year Award at the finalist's award ceremony in London.
"As the only provider of a large scale VRF air conditioning unit using R32 refrigerant it is a real honour to be recognised by the edie sustainability awards," said Mark Grayston, Product Marketing Department Manager at Mitsubishi Electric. "As a company we strive to deliver products that have a minimal impact on the environment, while delivering maximum efficiency and comfort for customers."
The unique City Multi R32 Hybrid VRF is the only VRF-type solution able to utilise the low GWP of R32 refrigerant. Mitsubishi Electric has long been a pioneer in the world of air conditioning and this unique product range puts the company at the forefront of the industry, and ahead of the on-going Phase Down of high-GWP refrigerant systems. This innovation has also been recognised by CIBSE (the Chartered Institute of Building Services Engineers) where the City Multi R32 Hybrid VRF was a finalist in the Building Performance Awards in the Products and Innovations category.
Launched in May 2018, the City Multi R32 version of the Hybrid VRF system offers a tried and tested solution to large scale VRF air conditioning with a much lower GWP. By using water as the heat transfer vehicle for the majority of the air conditioning system, R32 Hybrid VRF reduces the overall amount of refrigerant in the system, whilst bringing comfort levels normally associated with 4-pipe fan coil systems and combining this with the design flexibility, operational efficiency and advanced control that VRF is renowned for.
PR Contact
Nick Ringrow
Brands2Life
mitsubishielectric@brands2life.com