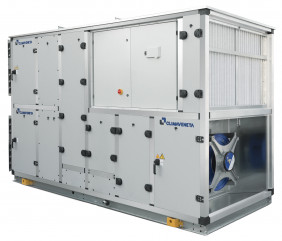 UK, 13th July 2018 – Mitsubishi Electric has announced the launch of its new Air Handling Unit (AHU) range, the Wizard. Designed for the UK market, the new AHU range is perfect for those looking for a cost effective ventilation solution that promotes wellbeing by improving indoor air quality.
With buildings accounting for around half of all UK greenhouse gas emissions, the Wizard is designed to meet or exceed European Ecodesign 2018 regulations, with a heat recovery efficiency of over 73% across the range. These regulations apply to a variety of energy-consuming products and calls for a reduction in energy usage to limit environmental impact. Air quality has become increasingly important, requiring that buildings install an efficient system that surpasses the Ecodesign legislation. Standards such as the WELL Building Standard – a holistic formula that promotes better health and well-being in workplaces – must also be kept in mind.
"Building and facilities managers are continuing to look for ways to provide a comfortable working environment at minimal cost and environmental impact, but with maximum output. Health, happiness and increased productivity are amongst some of the known benefits associated with well-ventilated spaces," says Janvi Patel, Ventilation Product Manager, Mitsubishi Electric.
The new Wizard works with Mitsubishi Electric's Mr Slim Power Inverter heat pump technology to deliver a cost and energy efficient system. Incorporating thermal wheel technology to aid in heat recovery, combined with an integrated control system, the Wizard is a highly advanced ventilation system, ideal for a huge variety of applications and installations, including universities, offices, retail and leisure centres.
"Opening a window for fresh air will only take you so far and can also risk bringing in external pollution. Buildings therefore need an energy-efficient system in place that can maximise the fresh air available to them, providing an ideal environment for occupants. The Wizard is a tempered fresh air system that brings in fresh air from the outside, tempers it to the correct temperature and removes the stale air from inside the building, working alongside and air conditioning and/or a heating system" continued Patel.
Delivered as a packaged unit, the Wizard is available in seven sizes with an air volume range of between 0.83 m3/s to 5.56 m3/s. Each Wizard unit comes with a minimum of two outdoor units, which enables close temperature control and minimises cycling.
Understanding that no two buildings or systems are the same, Mitsubishi Electric has designed the Wizard with an extensive range of optional extras. This gives the user the flexibility to purchase a system that can be designed to fit around the required specifications for any given building or space.
There is also the option to connect the Wizard to Building Energy Management Systems (BEMS) via Modbus & BACnet connections.
PR Contact
Nick Ringrow
Brands2Life
Mitsubishielectric@brands2life.com
0207 592 1200