Mitsubishi Electric has launched a new City Multi Vertical Hybrid Branch Controller (HBC) to offer even more flexibility of design for low refrigerant air conditioning systems.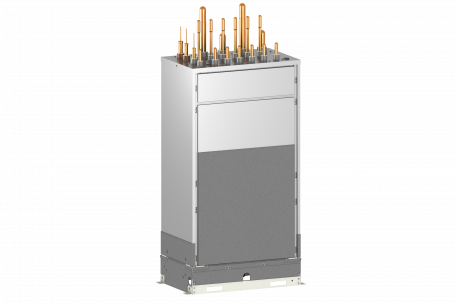 The latest addition to the company's market-leading range of Hybrid Variable Refrigerant Flow (HVRF) air conditioning, the floor standing Vertical HBC system provides the ultimate solution for flexibility, comfort and efficiency for today's building requirements.
The 2-pipe heat recovery VRF solution uses low global warming potential (GWP) R32 refrigerant between the outdoor condensing unit and an indoor Vertical HBC. From here, the intelligent system uses water between the HBC and the individual indoor air conditioning units.
The use of R32 supports the F-Gas reduction plan, and the use of water between the indoor elements removes the need for leak detection in occupied spaces in compliance with BS EN378 legislation.
The Vertical HBC is available as a 6-port main unit, with new compact 8 or 16-port sub HBC options. These make the system a much more viable solution for a wider range of applications. Valves, pumps and the heat exchanger are all contained within the Vertical HBC allowing for phased, modular installation, making the Vertical HBC ideal for Cat A to Cat B applications and easing maintenance regimes.
"With the new Vertical HBC model, the market-leading City Multi range can be installed in even more types of buildings, to provide comfort while meeting energy-efficiency requirements", said Jobin Varghese, Product Manager for HVRF at Mitsubishi Electric.
An overall system can be expanded using additional horizontal sub-HBC's allowing up to 50 indoor units to be supplied by one outdoor condenser. The Vertical HBC includes intuitive load adjusting flow control valves and inverter driven pumps to deliver maximum efficiency all year round.
Designed with complete flexibility in mind, the key components of the Vertical HBC's are accessible from the front and at floor level during commissioning, meaning there is no need to break into the ceiling. The installation of additional water-side ancillaries such as expansion vessel, water filling loop and isolation valves are also much simpler as they are all located on the ground floor.
In addition, water piping can be commissioned before the outdoor condensing unit is even installed.. All of this helps to save on installation time and labour cost, and means that service and maintenance can be carried out easily, as all critical components are installed at ground level.
With the noise sensitive components (for example; refrigerant parts, pumps, plate heat exchanger) all tucked into the vertical box, the new compact horizontal sub-HBC can be placed into any occupied space, without the need of any extra attenuation or service space requirements. The flexibility of installation also means the units can be moved and adapted if an office space is reconfigured during its lifetime.
With greater flexibility and simplicity of both specification and installation, Hybrid VRF can deliver a complete modern solution for office buildings, hotels, medical centres, schools, high rise buildings, shopping centres and other commercial premises.
"There's an ongoing focus on energy efficiency in commercial buildings and increasingly stringent regulations around carbon emissions, as well as the use of refrigerants in occupied spaces," added Varghese, "The City Multi Vertical HBC can help future-proof buildings to meet energy standards both now and in years to come".
For more information, please visit: https://les.mitsubishielectric.co.uk/products/air-conditioning/city-multi-hvrf/bc-controller-hvrf/vertical-hbc-controller
PR Contact:
Danielle Preedy
Brands2Life
Mitsubishielectric@brands2life.com