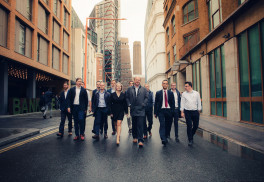 London, 14 October 2019 - Mitsubishi Electric has launched a new London office and a specialist team dedicated to delivering energy efficient HVAC solutions in the capital. The office, located at Sustainable Bankside II in Southwark, demonstrates Mitsubishi Electric's commitment to supporting the growing construction market in London and is specifically aimed at bolstering its consultative offering.
"There are over 500 towers planned or under construction in the next few years across the capital," explains Rob Bowden, London Business Manager at Mitsubishi Electric, who is heading up the new team. "Combined with an increase in mixed-use buildings and carbon reduction targets, consultants and businesses need support to engineer the best solution whilst being mindful of increasingly stringent legislation."
Bowden's team is geared to help customers and partners with matters relating to legislation, regulations and sustainable building practices, as well as sharing the latest innovations in cooling, heating, ventilation and smart controls integration for buildings in and around the capital.
"We look to partner with companies that share our high standards and service levels by providing engineered solutions to reduce carbon and energy within the built environment," said Ben Clover, Director at The Interior Works. "Rob and his team not only know the London market, they are also very knowledgeable about the construction industry, the legislation that drives it and the sustainable solutions that help to deliver a more energy efficient built environment."
Specifiers and building operators also face the challenge of delivering internal comfort that can adapt to changing use, while minimising the space required for plant and taking into consideration indoor air quality and noise levels.
"With the London Plan being expanded to account for the next 20-25 years, it is important that we are right on hand to offer support and advice to designers, specifiers and installers," added Bowden.
"The capital is continuing to see huge investment in buildings – both new and refurbished – and our customers and partners need to be able to easily access our support and services from a central London location. These new premises in Southwark will allow us to do just that."
The Sustainable Bankside office provides ample space for meetings, entertainment and networking, providing a fresh venue for the new dedicated business development team to meet with customers and partners.
As a corporate member of Sustainable Workspaces, the launch of the new office also sees Mitsubishi Electric double down on its commitment to office space that supports green and sustainable start-up businesses in the capital.
The site near the Tate Modern provides office space and networking opportunities for sustainable start-ups focusing on new construction methods and technologies, power-storage, recycled building materials, eco-design services and much more. Consumer-focused brands include Toast Beer, which is brewed using surplus ingredients from the baking industry and Halo Coffee, who have created compostable coffee capsules.
Bowden explains further: "Our entire ethos is based around the idea of creating the best and most sustainable living and working conditions for businesses and individuals, so it was vital that our new location embodied this spirit."
The London team will be using its new facility to host a series of customer CPD events over the coming months where clients will invited to meet the team, who can offer guidance, support and expertise for major projects and developments.
The new offices are based at Sustainable Bankside, 25 Lavington Street, Southwark.
Rob and his team would be delighted to hear from you: Robert.bowden@meuk.mee.com
PR contact:
David Keevill, Brands2Life
mitsubishielectric@brands2life.com