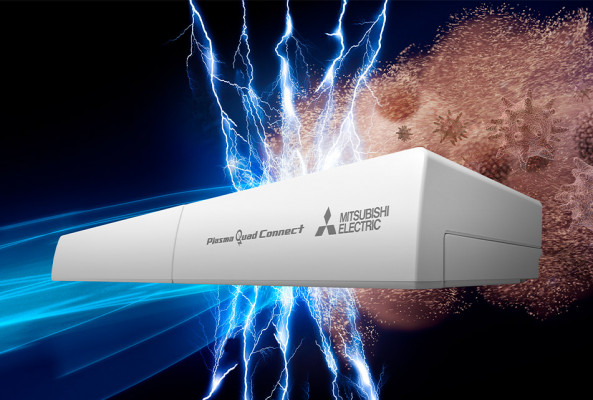 Mitsubishi Electric has launched its new Plasma Quad Connect air purifier for improved indoor air quality. The bolt-on device can neutralise six key indoor pollutants, as well as inhibit 99.8% of SARS-CoV-2 [i].
Plasma Quad Connect can be bolted on to Mitsubishi Electric's air conditioning for both new and existing indoor units across the M Series, Mr Slim and City Multi ranges.
Unique to the manufacturer, Plasma Quad Connect works like an electrical curtain to catch and neutralise even microscopic particles in the air, to significantly improve indoor air quality.
The technology, has been independently tested against SARS-CoV-2 by the Microbial Testing Laboratory, Japan Textile Quality and Technology Centre in Kobe, Japan. Plasma Quad Connect has also been found to be effective against bacteria, dust, viruses, mould and allergens such as pollen, in addition to microscopic particles down to PM2.5.
"There's a lot of debate around indoor air quality, especially as we look to move back into offices and buildings and good ventilation is the first thing any business should look at," explains Mark Grayston, Product Marketing Manager for Mitsubishi Electric. "At the same time, air conditioning with good filtration can play a significant role in optimising indoor air quality."
The level of pollutants inside buildings can be as much as up to five times higher than the outdoors, so being able to remove harmful particles in the air is essential to occupant wellbeing. With greater regulation pushing for air tightness in buildings, improving indoor air quality is also becoming an increasing priority for businesses.
"Plasma Quad Connect significantly improves indoor air quality, providing peace of mind for the building owner and reassurance for building occupants," adds Grayston, "It works with new installations but we've also designed the device specifically to address existing equipment, making it ideal for hotels, leisure facilities, medical centres, retail outlets and offices."
The device's bolt-on capability provides flexibility of installation and offers a more cost-effective solution, which means businesses can avoid costly refits. With regular maintenance, Plasma Quad Connect has the same service life as an indoor unit and it can be installed with wall mounted units, ducted units and ceiling cassettes systems.
"Plasma Quad Connect is automatically powered when the air conditioning is in operation," adds Grayston. "Our design engineers have not only developed something that is simple to install, it is also easy to use so building owners now have a straightforward and highly effective solution to improving indoor air quality."
Further details on the system can be found on the company's website https://les.mitsubishielectric.co.uk/indoor-air-quality
[i] Derived from and subject to test results, for and on behalf of Mitsubishi Electric, conducted at the Microbial Testing Laboratory, Japan Textile Quality and Technology Centre, Kobe, Japan.