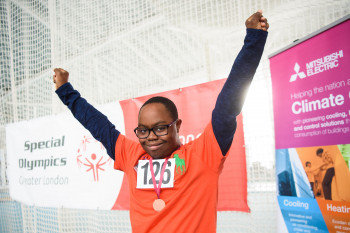 Mitsubishi Electric has renewed their partnership with Special Olympics GB for a further two years with immediate effect with both organisations committed to building upon the existing mutually beneficial relationship to help transform the lives of people with intellectual disabilities through sport.
Special Olympics GB is a non-profit organisation and the largest provider of year-round, sports coaching and athletic competition in summer and winter sports for children and adults with intellectual disabilities. Special Olympics GB currently has more than 120 all ability, inclusive sports clubs covering 28 sports across England, Scotland and Wales providing approximately 27,000 regular hour-long sporting sessions per year, all delivered by a team of more than 4,000 volunteers.
An official partner since 2018, Mitsubishi Electric has been active in supporting a wide variety of events, from last year's Special Olympics World Games in Abu Dhabi and the 40th Anniversary Games in Stirling in August 2018, to the smaller individual regional events with employees actively encouraged to volunteer.
Moving forward, the partnership will focus on delivering a range of joint initiatives which underpin, promote and reiterate the values and objectives of both organisations. From Unified sport events – both virtual and physical – to providing platforms for our athlete's stories to be shared, increased interaction and engagement with our Special Olympics GB Athlete Leadership Team and a variety of volunteering opportunities being offered, we will work together to deliver maximum engagement and purpose for both organisations.
Commenting on the renewed partnership, Michelle Carney, CEO of Special Olympics GB said: "We are absolutely delighted Mitsubishi Electric have decided to continue their relationship with Special Olympics GB. Mitsubishi Electric has a strong employee engagement agenda and with the many opportunities – both physical and virtual – Special Olympics GB can offer, the relationship works incredibly well for both sides. We have seen first-hand the impact Mitsubishi Electric colleagues and their volunteering work has on our events and our athletes and it can only be described as joyful for everyone involved. We often talk about the transformational effect of Special Olympics GB on our athletes but once organisations and volunteers meet and listen to our athletes, it transforms their lives too. We are very aware of the world we are living in and the many issues businesses are facing at the moment, and we are hugely grateful for the ongoing support from Mitsubishi Electric."
Deane Flint, UK & Ireland Branch President of Mitsubishi Electric said: "We are delighted to continue supporting the incredible work that Special Olympics GB does, giving these amazing athletes the recognition they deserve. In these challenging times it is more important than ever that everyone is given the chance to shine and realise their full potential, and we look forward to finding more opportunities for our staff to join in with the brilliant work this amazing body achieves."
Ends
About Special Olympics GB
· Special Olympics Great Britain (GB), set up in 1978, is a non-profit charity which provides year-round sports coaching and athletic competition in summer and winter sports for children and adults with Intellectual disabilities.
· An intellectual disability is: 'A significantly reduced ability to understand new or complex information, to learn new skills (impaired intelligence) with a reduced ability to cope independently (impaired social functioning) which started before adulthood, with a lasting effect on development' Source: Department of Health (2001) Valuing People.
· Special Olympics is a global, IOC recognised organization.
· Founded in 1968 by Eunice Kennedy Shriver to end discrimination against people with intellectual disabilities, Special Olympics now reaches more than five million athletes in over 190 countries.
· Unlike the Olympics and Paralympics, Special Olympics differs in that it aims to offer opportunities for athletes of all abilities to take part in a range of sport every day of the week, every week of the year.
· There are an estimated 1.5 million people with an Intellectual Disability in Great Britain and that number is predicted to rise. (Source: Papworth Trust 2010).
· Two hundred babies are born each week with an Intellectual disability in the UK (Source: Papworth Trust 2010). Eight out of ten children with an ID are bullied and ALL are socially excluded. (Source: Mencap 2007).
· Special Olympics GB currently has more than 120 accredited clubs in England, Scotland and Wales and provides coaching and competition opportunities in 28 sports. These programmes are run by over 4,000 volunteers who support thousands of the athletes with Intellectual Disabilities to take part.
· Special Olympics GB is more than just an opportunity to take part in sport – it transforms lives. It provides opportunities to increase confidence, realise potential, develop physical fitness and mental well-being, demonstrate courage and experience new friendships. And above all for both athletes and their families – to have some FUN.
· The work of Special Olympics GB is currently funded by individuals, trust and corporate donations and financial support is crucial to enable us to continue our work.
· For further information please visit www.specialolympicsgb.org.uk