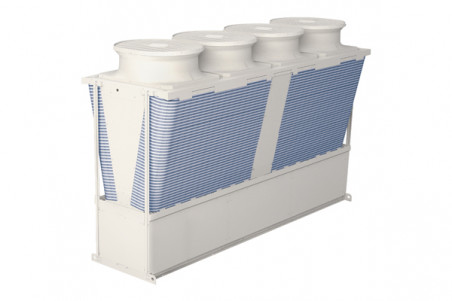 Mitsubishi Electric has launched an R32 version of its popular e-series chillers, available in 150kW and 180kW units. The e-series allows up to six units to be connected together to provide a total system capacity of up to 1080kW. The new modular chiller is available in both cooling only and heat pump variations and comes with a five-year warranty.
Using R32 refrigerant, the e-series replaces Mitsubishi Electric's previous R410A offering, in line with the business' commitment to provide products with lower Global Warming Potential and abide by F-Gas Regulations. Thanks to the use of improved heat exchange coils and aluminium micro channel in the cooling only version, the overall volume of refrigerant used in the chiller is reduced, helping to increase its energy efficiency.
"Using R32 refrigerant in the system means customers can not only benefit from lower GWP and increased energy efficiency, but also a reduction of equivalent CO2 emissions of up to 90% against our previous model", said James Chaplen, Senior Product Manager at Mitsubishi Electric. "With the addition of a heat pump version, customers can also ensure they are supplied with both LTHW and chilled water capabilities."
The e-series has a Seasonal Energy Efficiency Ratio of up to 5.52, a Delta T of up to 10⁰K and internal headers making it ideal for commercial buildings, such as offices, large retail premises, universities, libraries, hospitality and healthcare, as well as low temperature ambient loop heat networks solutions like multi-residential or multi-purpose buildings.
"Ensuring buildings provide good thermal comfort to their occupants is crucially important for both mental and physical wellbeing. With our new e-series, we enable businesses to prioritise their employees while also ensuring their systems are energy efficiency and minimise their energy usage," concluded Chaplen.
Mitsubishi Electric will be hosting a webinar introducing the concepts of modular chillers and exploring the benefits of their use on 16th March. Register here to attend.
Further details on the system can be found on the dedicated website: https://mechillers.co.uk/home or https://les.mitsubishielectric.co.uk/products/chillers.