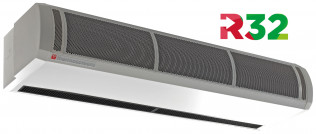 Mitsubishi Electric has launched a new, R32 Air Curtain which is designed to improve energy efficiency and minimise heat loss from a building while allowing businesses to benefit from an open door policy.
As the first manufacturer in the UK to launch an R32 Air Curtain, the new Mr Slim HP DX 2.0 Air Curtain completes the R32 offering across splits indoor units and allows customers to move to one sole refrigerant on site.
R32 has a much lower global warming potential (GWP) than R410A and is now the refrigerant of choice for split systems. By using R32 throughout the system, carbon emissions are reduced and installation, service and maintenance are all simplified.
"The new Mr Slim Air Curtain is the first in the UK, to utilise R32 which makes it the perfect choice to help buildings meet their carbon reduction plan", said Mel Threader, Senior Product Manager. "This technology offers an energy and cost efficient solution that would benefit all locations with public entrances including retail, hotel lobbies, office entrances, higher education, hospitals, libraries, museums and leisure facilities".
Air curtain technology minimises the amount of cold air entering a building and keeps the warm air inside, ensuring a comfortable environment is provided to the occupants. Flexible and easier installation is achieved with the R32 indoor unit as it is available in a recessed or exposed design offering. In addition, the Mr Slim HP DX 2.0 air curtains can be used as twin systems, using two identical units to serve a wide or double entrance / exit, served by a single common Mr Slim outdoor unit.
Developed by Mitsubishi Electric in conjunction with air curtain manufacturer Thermoscreens in the UK, and currently available in 1m, 1.5m or 2m lengths as a dual refrigerant solution (R32 or R410A), the units are ideal for businesses looking to future proof their buildings by running completely on R32. They offer lower run costs and carbon emissions through the flagship Mr Slim Power Inverter high efficiency outdoor units.
"Overall this R32, energy efficient air curtain is the ideal solution for businesses with strong carbon reduction targets who want to be able offer an open door operation whilst ensuring a comfortable environment inside", added Mel Threader.
Further details on the system can be found on the company's website https://les.mitsubishielectric.co.uk or www.thermoscreens.com
PR Contact: Nick Ringrow, Brands2Life
mitsubishielectric@brands2life.com