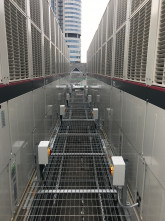 ASDA House in Leeds is now able to deliver energy-efficient cooling to employees in the company's head office thanks to the installation of ten Mitsubishi Electric e-Series modular chillers.
ASDA's three-story head office operates as the central hub for the company and houses a number of functions, including office and meeting spaces, cafeterias as well as customer support teams – as such it needed a versatile cooling system to deliver a comfortable working environment to staff.
The solution arrived in the form of Mitsubishi Electric's e-Series chillers, which were selected on the basis of the range's efficiency credentials and flexibility. ASDA worked with DDA Ltd consulting engineers and Yorkshire Building Services (YBS) installers to deliver 10 e-Series EACV-P900YA-N chillers, providing 900kW of cooling to a wing of the building.
Tim Anderson, Health and Safety Manager of YBS, could see the benefits of the e-Series' versatility given the urban setting. He said: "The installation restrictions were quite challenging, given ASDA House's location in the city centre, but thanks to the modular design of the e-Series chillers, we were able to quickly get these up and running. It's also possible to relocate the chillers if needed, which is a significant bonus."
The e-Series is designed with a common internal header pipe which helps to simplify the design, installation and maintenance of the range. This also helps to reduce space requirements, which made the e-Series the perfect solution given the space restrictions. A combination of highly efficient components and a uniquely shaped heat exchanger within the chiller meant that the e-Series also could meet the low noise levels required.
The chillers will also allow the site to reach the highest energy efficiency standards. With two inverter-driven compressors per module, they have a wide operating range of between 8%-100% capacity, offering exceptional part-load efficiencies. As this is where most chiller systems will operate for most of the time, this capability provides significant real-life efficiency savings.
ASDA House also benefitted from the "plug and play" nature of the modular chillers, meaning the modules could sit on the existing blocks and connect to the building's duct work. As a result, the team was able to remove the old units and install the new ones in an eight-hour window on a Saturday.
Brian Churchyard, Senior Manager Construction Designs Standards at ASDA, suggested that this approach could pave the way for managing HFO refrigerant technology moving forward. He said: "A modularised engineering approach, alongside many years of experience and development within our in store refrigerated cooling systems has resulted in significant reductions in trading risk, enhanced efficiencies and industry leading refrigerant leakage reductions."
For more information, go to http://library.mitsubishielectric.co.uk/pdf/book/ASDA_eSeries_Chiller_Leeds#page-1
PR Contact:
Nick Ringrow
Brands2Life
Mitsubishielectric@brands2life.com
0207 592 1200