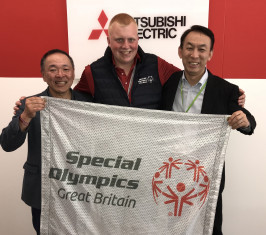 Mitsubishi Electric has announced that it will become a new official partner of Special Olympics GB for the next two years.
As the largest provider of a year-round, all ability, sports programme in Great Britain, Special Olympics GB supports over 10,000 athletes with intellectual disabilities on a continued basis.
"We are delighted to support the work this incredible body does to enable athletes to realise their full potential," explains Itaru Watanabe, President of Mitsubishi Electric UK Branch. "Everyone makes assumptions about the limits of people with intellectual disabilities and we are pleased to help confound preconceptions and give these amazing athletes the chance they deserve."
Mitsubishi Electric, which is also a partner of Special Olympics in Italy, is now encouraging its employees to undertake vital fundraising for Special Olympics GB across the country. The company's employees will also be volunteering at Special Olympics GB's regional events and have a presence at the 40th Anniversary Games in Stirling in August 2018.
Murton Mann, Chairman of Special Olympics GB, said: "We are delighted that Mitsubishi Electric has become an Official Partner of Special Olympics GB – from the first meetings we can tell this is going to be a wonderful partnership for Special Olympics and for Mitsubishi Electric. It is a partnership which will benefit our 10,000 athletes in England, Scotland and Wales and they will also be thrilled with this news."
Mitsubishi Electric has offices across the country with around 600 employees in the UK. The company markets cutting edge, energy saving technology used within the built environment, covering heating, cooling, ventilation, elevators, factory automation, visual displays and automotive parts.
-ENDS-
PICTURED: Mr Yoji Saito, President and CEO of Mitsubishi Electric European Operations (left) and Mr Itaru Watanabe, President of Mitsubishi Electric UK Branch (right) celebrate the partnership with Special Olympics GB golfer Warren Clark at the recent BMW PGA Golf Tournament at Wentworth.