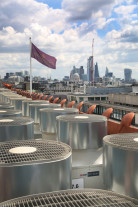 An innovative, efficient air conditioning system has been chosen to provide cooling and comfort to guests at the Strand Palace Hotel in the heart of London.
The hotel, which is walking distance from some of London's most famous theatres and has been welcoming guests since 1909, needed to modernise its heating and cooling systems to ensure a quality experience for guests. High levels of energy efficiency and minimal disruption to the hotel's operation during installation were also key considerations.
The solution came in the form of the unique Hybrid VRF (Variable Refrigerant Flow) system from Mitsubishi Electric, which offers simultaneous heating and cooling with full heat recovery. The combination of refrigerant and water used in Hybrid VRF also delivers a much lower Global Warming Potential (GWP) than traditional VRF systems and saves around 30-40% in refrigerant use in comparison.
The fit-out was designed by Elementa Consulting and installed by Working Environments and has seen units fitted across the hotel's 790 rooms. The project started in September 2018 and is due for completion in April 2020, making the project the biggest of its kind in Europe.
With an occupancy of 96% every day of the year, it was crucial that the hotel remained fully operational during installation to minimise loss of revenue and disruption to guests. Ted Connell, specifier and designer at Elementa, said: "Many different systems were assessed, but the expertise of the Working Environment team combined with the modular installation of the Hybrid VRF made it stand out as the right option for The Strand. It was possible to complete the installation floor by floor, even half a floor at a time where necessary, allowing the hotel to remain open during the process."
The Hybrid VRF system also offers additional cost-saving benefits by removing the need for leak detection equipment. Refrigerant is only used between the outdoor condenser and a special Hybrid Branch Controller box (HBC). From here, water is used to transfer heating or cooling to each room, removing the need for additional equipment or additional annual maintenance regimes.
Further information on the Hybrid VRF system can be found by clicking here.
PR Contact:
Nick Ringrow
Brands2Life
Mitsubishielectric@brands2life.com
0207 592 1200