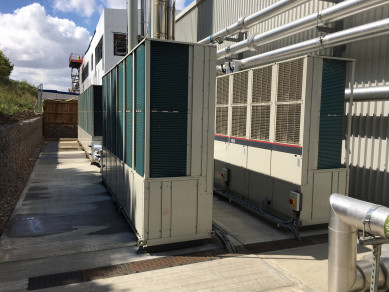 New system enables Jaguar Land Rover to operate at a significantly reduced energy cost
UK 20th July 2018 – A new Mitsubishi Electric e-series chiller system has been chosen for Jaguar Land Rover's principal design facility in Worcestershire. The new system was brought in as part of a major refurbishment with the overriding aim of improving on the energy efficiency of the old system.
Chiller systems have been used to deliver controlled cooling to buildings for decades, but with an increasing focus on energy efficiency and running costs, Mitsubishi Electric developed its e-series modular chiller to provide a low-carbon, cost-effective option. It's unique modular approach allows up to six individual units to be connected, providing a system capacity from 90kW to 540kW. This approach reduces space requirements and simplifies lifting and installation.
Mel Baynham at Jaguar Land Rover explained that the Mitsubishi Electric system was the clear frontrunner for a number of reasons: "We looked at a number of chillers, but the Mitsubishi Electric system met all of our requirements including next day delivery."
The system comprises two inverter driven compressors that allow it to operate between 8%-100% of capacity.
"We pushed for modular due to the fact that if a unit went down we would be able to keep the system running while that module was being repaired. It also needed to be a highly efficient system capable of looking after a design office containing 2,000 people", added Mel Baynham.
The new, fully operational system ultimately provides a more comfortable working environment for its 2,000 members of staff in its Research and Design building; a critical factor for ensuring productivity. By having a broad operating range, advanced inverters and sophisticated controls, the e-series can deliver exceptional part-load efficiencies, which is where it will primarily operate. The balance of comfort and cooling performance will allow the car manufacturer to focus its efforts on refining automotive technologies at a significantly reduced energy cost.
Jaguar Land Rover's new cooling system was designed by Norvent Pipework and the installation was carried out by IDS Electrical. The system consists of eight EACV-P900YA-N e-series cooling-only chillers, plus eight MELCOBEMS MINI interfaces, which provide individual indoor unit connections to a third-party Trend Controls Building Energy Management Systems (BEMS) via RS485 by either Modbus RTU or BACnet from a common platform.
More information can be found: https://library.mitsubishielectric.co.uk/pdf/book/JLR_-_Chillers_2018#page-1
PR Contact
Nick Ringrow
Brands2Life
Mitsubishielectric@brands2life.com
0207 592 1200
242/MEUK/18