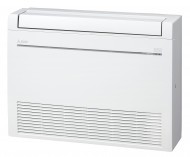 UK, 7th October 2019 - The M Series range of air conditioning units from Mitsubishi Electric has now grown with the introduction of its new MFZ-KT range of R32 floor mounted systems. The introduction of the new range completes the line-up of M Series R32 products, enabling Mitsubishi Electric customers to transition to a lower global warming potential (GWP) solution for all small to medium sized split-type applications.
"Mitsubishi Electric is committed to helping our customers reduce their carbon emissions through lower GWP air conditioning units. The latest update to our M Series range means we now offer a full range of R32 indoor unit types, providing unparalleled choice to customers when it comes to product selection", said Jordan Jeewood, Product Manager at Mitsubishi Electric.
The MFZ-KT range comes complete with three uniquely shaped vanes for optimum air distribution and an auto swing vane function provides more natural and comfortable airflow throughout the room. With a built in seven-day timeclock users can also control their system more effectively, helping to increase energy saving.
The new range is available in 2.5kW, 3.5kW and 5.0kW capacities and its lightweight and compact design makes installation easy, while the asymmetrical design harmonises with all types of interiors.
Connection to R32 MXZ multi-split outdoor units is also possible where multiple indoor units are required, and with a built in refrigerant leak detector, the MFZ-KT can be installed with minimal additional considerations.
PR Contact:
Nick Ringrow, Brands2Life
mitsubishielectric@brands2life.com