In my role as editor of Refurb Projects I do get to visit some lovely buildings and a perfect example of a stunning restoration is the new Hotel du Vin in Stratford-upon-Avon.
I was invited as part of a Press Visit by Mitsubishi Electric which has launched the only viable R32 VRF air conditioning system currently available in the UK with their new Hybrid VRF (Variable Refrigerant Flow) solution.
The venue was chosen because part of the refurbishment saw the hotel being fitted with a Hybrid air conditioning solution – albeit one using the current refrigerant of choice, R410A.
I won't go into the reasons behind the switch from R410A refrigerant to R32 but there are several articles on the Hub such as this one, or this one which lists the 18 key things you need to know about R32 and explains the details and the need for equipment with a low Global Warming Potential.
You can see that every aspect of the refurbishment has been focused on guest comfort

A beautiful conversion
The newest member of the Hotel du Vin brand, which opened in May, is a sympathetic conversion of two grade II-listed townhouses, right in the heart of this historic town.
Over the years the buildings have had a variety of uses including being the home to the Embassy Club and being used as both houses and offices.
Judging from my short visit, the refurbishment encompasses everything that the Hotel du Vin brand is renowned for, with 46 stunning bedrooms and suites that are complemented by the Bistro – which focuses on home-style French cooking, robust earthy dishes and slow-cooked foods.
Two gorgeous private dining rooms, an event space that accommodates up to 70 people and an outdoor al fresco eating area add further style and space to this superb refurbishment.
Hybrid air conditioning
The converted building uses Mitsubishi Electric's unique Hybrid VRF air conditioning to offer complete, controllable comfort for guests and uses the company's new touch screen room controllers.
Air conditioning is increasingly important in the hotel sector but refrigerant-based systems are now subject to BS EN378, which requires additional leak detection to be fitted in every occupied room, leading to additional install costs and extra annual maintenance.
The Hybrid VRF system minimises the amount of on-site refrigerant, removing any need for leak detection within the bedrooms and helping reducing annual maintenance for the Hotel. The system was designed, installed and commissioned by Antony Grice Ltd, who specialise in heating, plumbing and air conditioning.
Opening the hotel has taken a lot of dedicated work from both the tradespeople involved and the Hotel staff as Nicolas Jefford, General Manager Hotel du Vin Stratford explains: "Our team has worked incredibly hard over the last few months to ensure we can bring a much-needed boutique hotel and bistro to the area, which is befitting of a town with so much character and history.
"Every aspect of our focus is on absolute guest comfort and this runs through everything from the décor, the service and the feeling within each room. It is therefore vital that we have reliable heating and cooling that both we and our guests can control, so that we can provide the right environment with minimum energy use.
Commenting on the Hybrid VRF air conditioning, Mr Jefford said: "It's still early days but so far, we have been impressed with the system."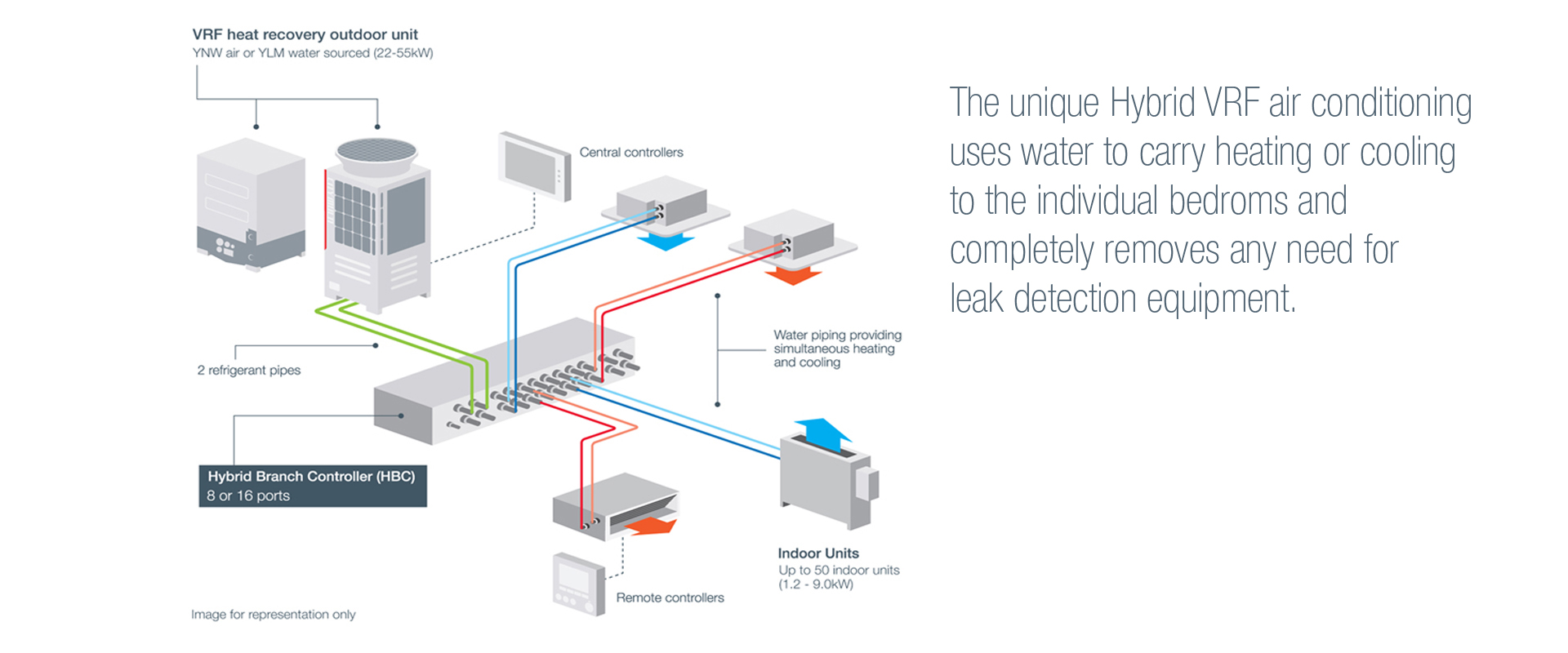 How Hybrid works
Hybrid VRF offers the same flexibility of design and operation as traditional VRF air conditioning systems but uses water to transfer heating or cooling to individual rooms. The use of water also delivers room comfort usually associated with chiller technology.
The outdoor condensing unit is linked to a Hybrid brand controller (HBC) box by refrigerant piping but from the HBC, water is used to transfer heating or cooling to the individual rooms, which means there is no refrigerant at all in occupied spaces and the Hotel does not face the additional costs of installing leak detection monitors, or the cost of annually calibrating each one.
The other thing that impressed me about the system was the new room controller that had been chosen. It offers guests simple control of their room temperature in an easy to understand touch screen system, but is also connected to the Hotel's overall control system. Staff can therefore ensure that equipment is not running when rooms are empty, or can make sure the bedrooms are comfortable before guests arrive in the most energy efficient way possible.
All in all it was a most enjoyable visit and shows how quality and efficiency can (and should) go hand in hand.
I definitely know where I'll be staying the next time I visit Shakespeare country!