First of all, I would like to apologise to anyone reading this that has not yet received their voucher or even had access to the Green Homes portal that was promised for November.
I feel a bit like the last woman to go into labour but the first to give birth – it all seems a bit pot luck and chaotic!
In fact, I have found there have been many similarities to having a baby – hear me out…
The biggest difference is that our heat pump does come with a manual!
Enjoy the journey. Yeah right.
When we first started 'trying' to change our rickety, unreliable gas boiler for an air source heat pump, we hit the first stumbling block.
I tried to be smart by getting quotes in as soon as the Government announced the green funding.
You know how 'they' say "enjoy the journey" with pregnancy, well this journey was definitely the hyperemesis gravium type, it made me feel sick with frustration.
I struggled to find installers that were on the Government's approved list and the closest were 20 miles away.
We got 3 companies to come out, 2 said they couldn't do it, so we only had one quote.
Thankfully Darryl and his team at Greenfoot Heating Solutions have been fantastic and I can only compare them to gas and air throughout the entire experience (apart from without the gas because that is the whole point of this story!).
Not only were they on the MSC list but also a Mitsubishi Electric approved installer.
Was my luck starting to change?
The 10 week wait
Much like getting a positive pregnancy test, the wait for the Green Homes Grant voucher was excruciating. At least with pregnancy it's only a two week wait to find out if you have conceived.
We applied on the morning that applications opened and as every month passed, we thought it was never going to happen.
We emailed regularly and then weeks after applying, the GHG sent a list of lengthy requirements that had to be in the quote and to resupply.
Thank goodness I didn't have actual pregnancy hormones, after waiting for so long already I was pretty peeved to put it politely.
In the end the quote expired (icing on the cake) Greenfoot Heating solutions supplied us with a new one and then a few days later (10 weeks in all) we finally got the good news!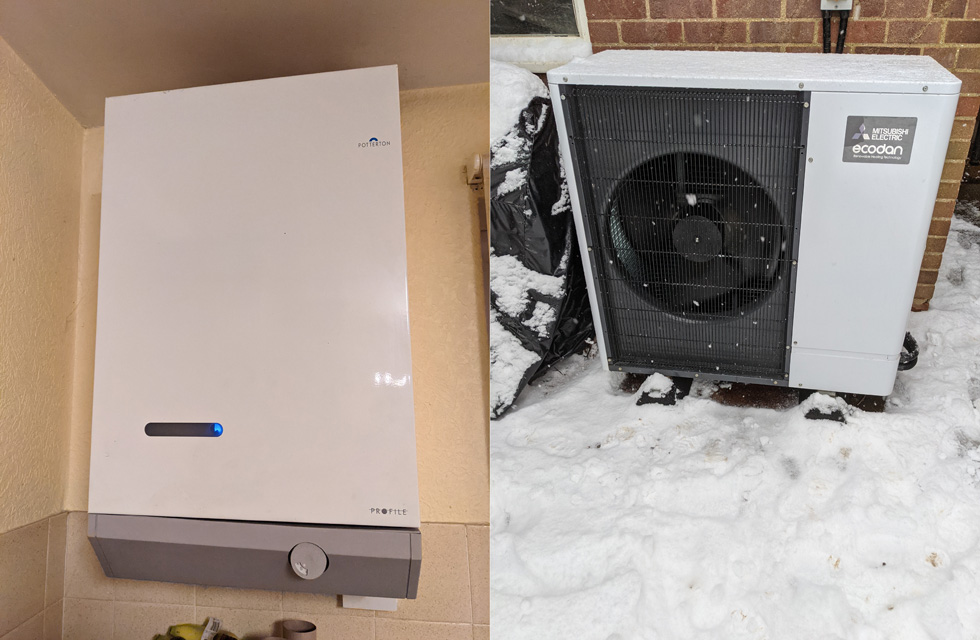 The new arrival
On the 18th December at precisely 9:58am our Mitsubishi Electric 13kW Ecodan air source heat pump was here and along with the water tank and other pieces of kit, we were feeling prepared.
People say if the pregnancy is hard, then the birth tends to be easier and in our case this was on the money. Still plenty of labour involved but getting the voucher was definitely the hardest bit.
The heat pump was installed on day one and the rest of the week involved plumbing the water tank which is a seriously impressive bit of kit and replacing old standard radiators with new Mitsubishi Electric i-life slim fan assisted radiators.
These are really great because they mean you don't need huge standard radiators and they also have the option to reverse and offer cooling in the Summer. How clever is that?
I have become one of those slightly irritating new parents that has sent way too many photos of my new member of the family and it's my only conversational piece.
Oh well, it is lockdown, frankly it's nice to have anything new to talk about.
How life has changed
Thankfully the biggest difference between our new life into renewable heating and having a baby is that our heat pump does come with a manual!
By day 2 after watching lots of Ecodan videos on Youtube we had already halved our electricity usage from the previous day.
Today, as I write this, it is snowing and -2 degrees outside, but the house is very comfortable.
It really is a miracle that heat can be taken from the air in such cold weather but even better than that, from the Spring we expect our electricity to cost us around 60p per day.
We have moved to Octopus Energy on their heat pump tariff so we look forward to even more cost savings, something that definitely doesn't happen after the arrival of a baby!