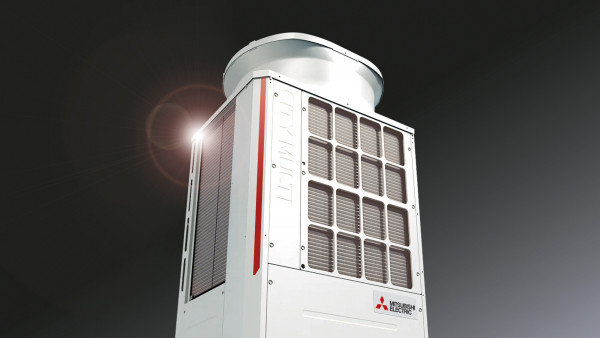 Mitsubishi Electric has launched the next generation of VRF (Variable Refrigerant Flow) air conditioning with the new City Multi YNW to offer the market a system that delivers ultra-quiet noise levels, an increased performance and a reduced footprint.
"The new City Multi YNW models deliver the lowest installation costs, the lowest running costs and the lowest CO2 emissions currently available in a VRF system," explains Jordan Jeewood, product specialist for the company's City Multi range
The YNW outdoor units include a unique new, 4-sided heat exchanger which maximises the space available for plant by reducing the area required for air conditioning modules. Improved compressor and fan design also help to reduce sound power, making the YNW one of the quietest VRF systems available on the market.
"We've looked at how to improve the system in almost every area and this means improvements across the board," explains Jeewood. "In the case of our most popular 34kW model for example we see a 19 per cent increase in seasonal efficiency, making compliance with energy legislation easier to achieve."
Air source VRF systems are one of the most popular and widely used air conditioning systems in commercial buildings. However, our town and city centres are becoming more densely populated and we see an increase in multi-use buildings with office, retail and leisure spaces in close proximity to both residential and hotel accommodation.
Noise and plant space has therefore become a key issue and the City Multi YNW has been designed to address these challenges whilst meeting energy efficiency legislation.
The City Multi YNW also offers incremental capacity steps which give increased flexibility in noise output control. This flexibility is further enhanced with multiple external static pressure settings, extended up to 80Pa which will help with long or narrow ducting requirements.
"We have increased the amount of cooling capacity that can be delivered per square metre of plant by 28 per cent thanks to the advanced wrap around heat exchanger," adds Jeewood. "This means less space is needed for outdoor modules and greater flexibility in where they can be located."
These new models are available in capacities from 22kW to 150kW to offer some of the highest levels of efficiency coupled with smaller footprints, reduced noise levels and increased design options.
City Multi's unique heat recovery two-pipe option also allows for phased installation, meaning that the cooling and heating system can be installed around a project build, with individual sections commissioned as required.
Up to 50 indoor units are connectable to the larger outdoor unit models and a complete new range of Branch Controller (BC) boxes is now available with reduction in height, a removable drain pan and a reduced refrigerant charge.
A completely new piping layout for the Branch Controllers (BC) boxes also increases the options for designers and installers and can help reduce installation time and make maintenance regimes easier.
"Today's installers and building operators face tough challenges set by planners and designers and the City Multi YNW is designed to deliver the most energy efficient solutions whilst providing the most comfortable environment," ends Jeewood.
Click here for further details.