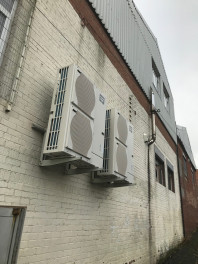 The installation of a renewable heating system into a refurbished warehouse has helped a North East charity develop a fantastic hub for homeless people in the area, to provide warm meals, blankets, or just someone to talk to.
Led by Founder and Charity Manager Brian Burridge, the North East Homeless (NEH) team has spent the last four years supporting individuals within and around Newcastle in a bid to make their lives better, one way or another. After transforming an old warehouse into a hub, NEH now has a coffee shop for everyone to enjoy – and all the money raised goes straight back into the charity, so they can continue to provide support to those in need.
The charity wanted to make the space more sustainable, comfortable for people to visit or seek relief from the outdoors, and more future-proof, so they contacted companies across the UK to contribute to heating, lighting, electrics and so on.
TV presenter and architect George Clark is a patron of the charity and also the public face of Mitsubishi Electric's Ecodan renewable heating.
After reaching out to George, and discussions with Mitsubishi Electric, NEH were gifted two brand-new air source heat pump units and modern, fan-assisted radiators, to provide functional, green, clean heating at the shelter and coffee shop.
Not quite realising how much the cost installing the units, radiators and wiring would amount to for such a small charity, approved Ecodan installer, Engenera Renewables Group stepped-in to provide a free installation.
"We're committed to giving back where we can and once we saw the amazing project being undertaking we were only too happy to provide our support", says CEO of Newcastle-based Engenera Renewables Group, Bryan Glendinning.
The company is already working towards building a sustainable future for commercial businesses and households throughout the UK.
"Providing some support to a local charity who are also wanting to ensure their services are future-proof, was something we couldn't say no too," added Bryan.
Two 14kW Ecodan units now provide all the hot water and heating needed for the centre, with 14 individual i-Life fan-assisted 2kW radiators heating the spaces within the building. The hub not only provides a safe space for so many people, but allows the charity to carry out outreach nights across the North East three-nights a week to provide warm food and drinks, advice on organisations who may be able to provide assistance in accommodation and so much more.
"Everything in our Hub is sustainable," explains Brian Burridge, founder of North East Homeless, "we aim to save furniture or equipment which was previously going to land-fill, and to ensure we're energy efficient, mindful of our carbon footprint and so on.
"I'm blown away by all of this. It's going to warm up so many freezing street friends this winter and beyond. I can never thank you all enough. With the renewable heating system and the generous installation by Engenera Renewables Group; we can ensure our Hub is more sustainable than ever, provide warmth to everyone who comes our way, keeps costs down and prevents energy waste."
Engenera Renewables Group began the installation on November 2 completing it over the course of the first-week of November.
Brian Burridge and his dedicated team at NEH are now working towards an official reopening of the Hub on December 15.
"I am overwhelmed with the generosity from both Mitsubishi Electric and Engenera on this fantastic project for North East Homes homeless," adds George Clarke. "The fact that Engenera have chosen to give their valuable time and resource for free at such a tough period for everyone makes this even more amazing and Mitsubishi have been incredible too.
"It is the most kind and generous Christmas present for the team at North East Homeless. The Ecodan heating system being installed will provide 'affordable warmth' for so many in need this winter and of course, as it is a heat pump system, the environmental impact will be massively reduced compared to a fossil fuel based system. Thank so much to everyone involved who made this happen!!"
You can find out more about the impressive work undertaken by the Engenera Renewables Group by visiting their website: https://www.engenera.com/
Further information on the important work of NEH can be found at their website: https://northeasthomeless.org.uk/about/