Mitsubishi Electric has launched Ecodan Hydrodan - a new, highly efficient, water-to-water heat pump for the multi-residential market.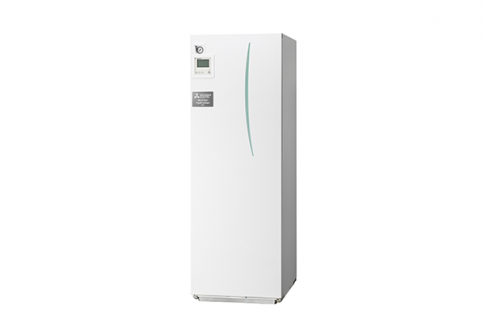 The packaged 'plug & play' solution is specifically designed to provide heating and hot water in residential apartments, and to capitalise on the significant sustainable energy efficiency that the next generation of heat networks offer. It also operates with a low quantity of low-GWP R32 refrigerant, to help keep environmental impact to a minimum.
"There are already renewable heating solutions for single homes, but this is one of the first truly low-carbon options available for multi-residential apartments", said Alex Bagnell, Product Manager for Hydronics at Mitsubishi Electric.
"The next decade will see us continue to decarbonise home heating, in order to reach the net-zero target and low-carbon technology will play a pivotal role here. Ecodan Hydrodan, and particularly the use of water-to-water heating, is well placed to support this".
The built environment contributes 30% of all carbon emitted in the UK with heating residential homes accounting for 17% alone.
Ecodan Hydrodan units can be installed in individual apartments to deliver domestic hot water using an integrated storage tank, and low temperature hot water for heating. The units connect to a 5th generation ambient temperature heat network deployed throughout the building, to deliver renewable heating and hot water.
5th generation networks utilise ultra-low temperature, typically between 10-30°C, the use of such a low temperature means that multiple water source heat pumps can be used on the network. The heat pumps can use the network as a heat source or heat sink depending on the demand for heating or cooling. This means that the network can be used as an energy store to share rejected energy from cooling plant with the heat injection needs of heating plant.
Ecodan Hydrodan upgrades heat energy from the water loop for use in each apartment. Each packaged unit offers a capacity range of between 1.1kW and 7.5kW with flow temperatures of up to 60°C. The 170-litre integrated tank includes variable PIC (Pressure Independent Control) Valve loop control, which allows the flow into the unit to change independently of the pressure in the system.
All connections for the heat network, mains cold water, DHW and LTHW circuit are fitted at the top of the unit for simple installation. Ecodan Hydrodan is also compatible with UFH, radiators, fan coils and fan assisted radiators, and offers both single and twin zone control.
The unit incorporates an easily removed heat pump module containing the compressor, refrigerant to water heat exchanger, loop to refrigerant plate heat exchanger and water circulating pump.
The heat pump module makes maintenance and even repair simple, and operates at ultra-low noise output, meaning there is no disturbance for occupants in apartment buildings. Its highly efficient heating and hot water production and advanced, internet-based controls can help keep running costs down for owners.
"The move to low temperature heat networks using the water-to-water model helps to significantly improve the current heat network technologies, by reducing the distribution losses and contribution to apartment overheating," added Bagnall.
"Ecodan Hydrodan technology also leads the way towards larger community and network heating schemes, where energy can be sourced and shared from other HVAC technologies".
To find out more about Ecodan Hydrodan, please visit https://les.mitsubishielectric.co.uk/products/heating/commercial/ecodan-hydrodan
Media enquiries
Danielle Preedy
Brands2Life