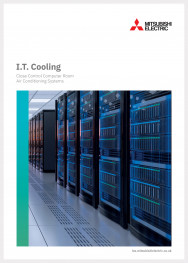 Mitsubishi Electric has launched a dedicated brochure for the IT Cooling sector, to highlight the advanced range of critical cooling equipment available for data centres.
With the huge growth in data use due to the increase in homeworking, the pressure on servers has never been greater and businesses therefore need a range of advanced, reliable systems that can suit anything from a small server room to a larger data centre.
Mitsubishi Electric has combined its advanced air conditioning with the years of expertise of the RC Group to develop a range of specialist systems that make it possible to ensure the correct room conditions all year round.
The brochure contains detailed information on the following products:
MSY-TP High SHF Wall Mounted System
s-MEXT-G00 DX R32 & R410A Close Control Systems
i-NEXT DX Close Control System
w-NEXT Chilled Water Close Control System
New - Multi Density VRF Close Coupled System
NR-FC-Z / i-FR-G05-Z / TRCS-FC-G05-Z Chillers for I.T. Cooling
The new brochure, along with an updated set of Product Information sheets and links to watch our recent webinars, can now be found on our dedicated I.T. Cooling microsite by clicking here.
PR Contact
Nick Ringrow
Brands2Life
mitsubishielectric@brands2life.com