A hot topic
Wayne Buckley, the Managing Director of air conditioning specialist, Temperature Control was already considering ways of reducing his company's carbon footprint, so he was delighted when Mitsubishi Electric developed its new Committed Carbon Reduction Partner (CCRP) Accreditation.
He had been talking to a consultant friend about becoming carbon neutral because he understood how important decarbonisation is becoming to clients. Now, having completed the accreditation process with Mitsubishi Electric, Temperature Control has become the first air conditioning installer to proudly display the CCRP Certificate on its office wall.
"Many of our customers are already planning their own net zero journey and I am being asked more and more to demonstrate our own plans to decarbonise," explains Wayne. "That's not surprising as we install energy-consuming equipment and as an industry we know we have the tools to help reduce carbon, but in the past, it hasn't always been the focus."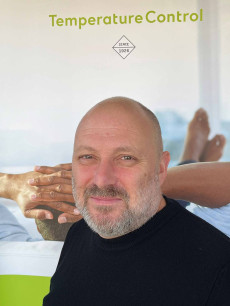 Leading the way.
Temperature Control will reach its 100th anniversary in a few years' time and the company has always tried to lead by example. It was one of Mitsubishi Electric's first Diamond Quality Partners, one of the first to use R32 products, and the Hybrid VRF system, as well as one of the first partners to embrace Mitsubishi Electric's apprenticeship scheme. The business has also been using solar panels for over 10 years, along with heat recovery air conditioning. Wayne is keen to continue to lead and believes that by showing the way, others will follow.
Government is also driving through change with tenders for major government funds now calling for sustainability, so the demand is going to grow.
"Big business is already driving carbon reduction across the globe, and everyone is now looking at energy use, equipment efficiency and carbon reduction," he adds, "our industry is in a unique position of being able to make a real difference to customers, which gives us a real opportunity to grow."
He also says that he has had his busiest year so far and that the accreditation process did cause extra work but it's always easy to put things off and once started, the process builds its own momentum.
"You have to remember that this is not just a one-off thing, and it needs reviewing every year," Wayne explains, "having now been awarded accreditation we will continue to monitor our carbon output, and revise our vision and business plan to continue improving."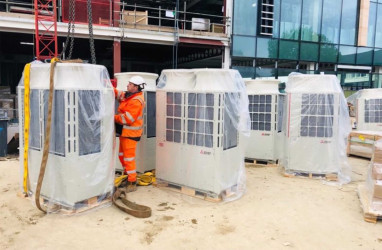 The road to Net Zero
Like a lot of businesses, one of Temperature Control's biggest issues is the CO2 associated with transport, which can't just be changed overnight. At the moment, it isn't viable to change their whole fleet overnight, however knowing it needs to happens as part of their carbon reduction plan, it means they are now planning for it and Wayne and his team will continue to look for other ways of reducing the businesses carbon emissions. Changing the company's fleet to electric will become part of the reduction plan.
"We've now got a clear route to 2030 when we want to become carbon neutral and my advice to anyone wanting to start is to measure everything so you can start to see where you can make improvements," he adds.
Throughout the accreditation process, Temperature Control has been supported by Mitsubishi Electric with a tool kit to guide them on calculating their carbon footprint, setting targets, and training.
Part of the process includes ongoing learning from the Supply Chain Sustainability School, which helps the team at temperature Control to increase their knowledge and understanding, in turn helping them to enhance the service they can offer their customers.
"Everyone has embraced the sustainable learning and can see the benefits to themselves and our business," explains Wayne.
It's all about developing the skills, knowledge and experience needed to devise effective carbon reduction strategies, and this is enabling Temperature Control to stand out in an increasingly sustainability-conscious marketplace.
If you would like to learn more about CCRP accreditation, contact your Mitsubishi Electric Account Manager or the company's Partner Programme Team (partner@meuk.mee.com)