So, the UK government has set a target of 600,000 heat pump installs PER YEAR by 2028.
That is a very ambitious target because it means we are going to have to increase the current number of installations by 10-fold in the next 5 years!
Obviously, this is the right direction we must go in to go from a fossil-fuel burning heating economy to being a clean and green renewable energy economy.
But, for us to have any chance of meeting that ambitious target, a number of very important things need to happen in the industry and these come down to education and, just as important, to cost.
After replacing his heating with an air source heat pump, his comment was 'Why isn't everyone doing it?'
A fair question
First, there needs to be an enormous push to educate the public on the difference between fossil-fuel heating and renewable heating from a heat pump.
Many still think of this as new technology, although modern heat pumps are not that new to be honest and the technology has been tried, tested and refined for over 15 years now.
I've had an air-source heat pump fitted to my period house in London for a few years now and I love it, but I have to be honest and say that before I took the plunge with the installation, I had to educate myself on the finer points of air-source heat pumps, how they worked and how they compared with more traditional or conventional forms of heating.
Literally, just as I finished typing the word 'heating' in the last paragraph, one of my best friends called me from his house in France. We've just had a chat instigated by him on air source heat pumps because this is the first week he's experienced renewable heating after replacing his oil-fired heating system with an air-source heat pump installation.
After waxing lyrical about how much he's pleased with his new system and how much better the heating is in his old house, his comment was: "Why isn't everyone doing it?"
It's a very fair question.
Other concerns
Why isn't everyone doing it?
Of course, the cost-of-living crisis and the costs associated with making the change from an oil or gas-fired boiler to an air source heat pump doesn't help.
People have other concerns on their mind right now, like staying employed, paying their mortgages and putting food on the table.
That is enough pressure alone right now.
But I think it is fair to say that people are also VERY worried about their sky-rocketing energy bills!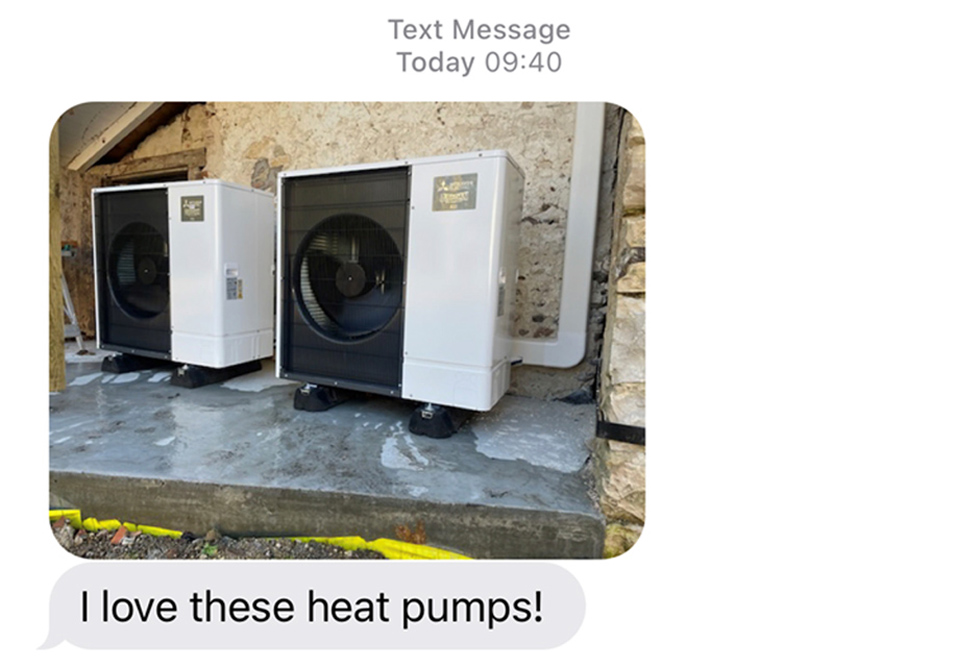 How do heat pumps work?
Air-source heat pumps (ASHP) units replace your conventional gas or oil boiler.
They heat your hot water for all of your hot taps, and they heat the water that runs through your radiators or your underfloor heating system.
In very simple terms an ASHP has a fan, which helps draw air across an internal structure of pipes to capture heat energy from the outside air. And it can do this even when there is snow and ice on the ground.
The captured heat energy is compressed so it becomes very hot and this is used to warm up water. The heat is stored in a very efficient and highly insulated hot water tank and used whenever you need it. The air source heat pump tops up the hot water in the tank whenever it needs to.
There is no gas or oil involved at all, so you can completely remove these carbon-intensive fuels from your site, and your sight!
Of course, you need electricity to power the ASHP and it makes complete sense for that electricity to be purchased from a 'renewable electricity supplier' otherwise you would have to question the ethics of why you're doing it at all.
The fact is that if your current gas boiler or oil-fired boiler is more than 12-15 years old and hasn't been regularly serviced properly, then it is probably quite inefficient.
Your will be paying a lot of money for it to be generations less efficient at heating than it should.
The end of fossil fuels
Another fact is that fossil-fuel prices are only going to get more and more expensive as supplies begin to diminish.
So, taking the right sustainable long-term approach is definitely better that taking the wrong unsustainable short-term approach by replacing you current old gas or oil-fired boiler with a new gas or oil-fired boiler.
If you're making the change and can afford it, then please seriously consider installing a new ASHP.
It's worth remembering that the technology is pretty amazing. A new ASHP installation can be monitored remotely, so you can control it from your phone.
And in the unlikely event that there are any operational issues at all, the installer and manufacturer can access your system remotely, carry our any trouble-shooting, and give you the advice you need to get it working as efficiently as possible – usually without involving a trip to your home from an engineer – or you having to sit in waiting!
This is not only a huge benefit to the engineers involved, but also to you as the homeowner.
Cost
Those that can afford it have no excuse really. Make the move to renewable forms of heating and stop using fossil-fuels.
Do it because it genuinely is the right thing to do.
The cost of installation depends on the size of your home and the number of bathrooms you have, but as my good friend in France discovered, the cost of a high quality ASHP installation really wasn't a lot more that putting in a new oil-fired boiler and upgrading his entire heating system.
For those that can't afford to make the transition to an ASHP, there obviously needs to be help financially. This is where the government come in.
If you live in England or Wales you can now apply for the Boiler Upgrade Scheme (BUS). This is a non-means-tested grant from the government where you can apply for £5,000 toward a new air source heat pump, or £6,000 towards a new Ground-Source Heat Pump (GSHP).
It is also worth mentioning that some of the big players are seeing an opportunity for their business now that a low-carbon future is on everyone's mind and now the government are stepping in to give support.
Just this month British Gas is "kicking off a price war" by promising to limit the starting price for installation of a new heat pump to £2,999.
That doesn't include the actual cost of the heat pump and won't apply to every house, but it does show that the industry is moving in the right direction, especially when you factor in the Boiler Upgrade Scheme.
So, the future is looking pretty good when it comes to homeowners changing their old fossil-fuel burning boilers to cleaner, greener forms of heating.
That leaves house-builders, developers, landlords and commercial property owners. More about that next month.
George Clarke is an Architect, writer, TV presenter and Ecodan Ambassador