Back in the days before central heating, I am told by my older colleagues that getting up in the morning was a real challenge in the winter, as you had to skip from chilly bedroom to freezing bathroom before you dressed in as many layers as possible, to make it bearable to dash downstairs for breakfast.
If you were lucky, there might be the dying embers of last night's coal fire, or you might have a three-bar electric fire or a portable gas fire somewhere in the house that you could get dressed in front of, but that also came with the embarrassment  of sharing space in your undies with your family!
Thank heavens then for central heating
With today's modern systems, it's possible to wake up nice and cosy and flit around getting ready for work in little more than a t-shirt and boxers (sorry if that conjures up an image you didn't want or need in your head!). But there's a problem with just how carbon-intensive current gas and oil heating systems are.
This is where the humble heat pump comes to the rescue – according to the Government, at least, which is predicting sales of one million heat pumps a year over the next decade or so. That's also according to companies such as Mitsubishi Electric, which has been investing heavily in air source heat pumps and manufactures them in Livingston, Scotland.
So over the next decade, we will see change coming to our industry and that's part of the reason I've been banging on about heat pumps in this column for the past few months as I do believe heating engineers need to gain the skills necessary to capitalise on this rapidly growing market and ensure they don't get left behind.
Double the size
One of the potential issues with heating from renewable systems, though, is that you do sometimes have to increase the size of the radiators as heat pumps work best at a lower flow temperature and, to achieve the output required, you need a larger surface area with a traditional stainless steel rad. And that's where fan-assisted radiators such as the new i-Life2 Slim from Mitsubishi Electric can make a real difference.
These can work with traditional heating systems as well as renewable ones and they promise to deliver faster heat up times and lower running costs than the equivalent output double panel, double convector radiator.
The i-Life2 Slim is available in 1kW and 2kW models and offers a high heat output from 50 per cent less wall space (based on 45ºC flow).
The current option for anyone wanting to use low flow temperatures is to increase the size of the radiator. Not only does this require more wall space, which might not be available in every room, it can also be quite a change for the homeowner to get used to.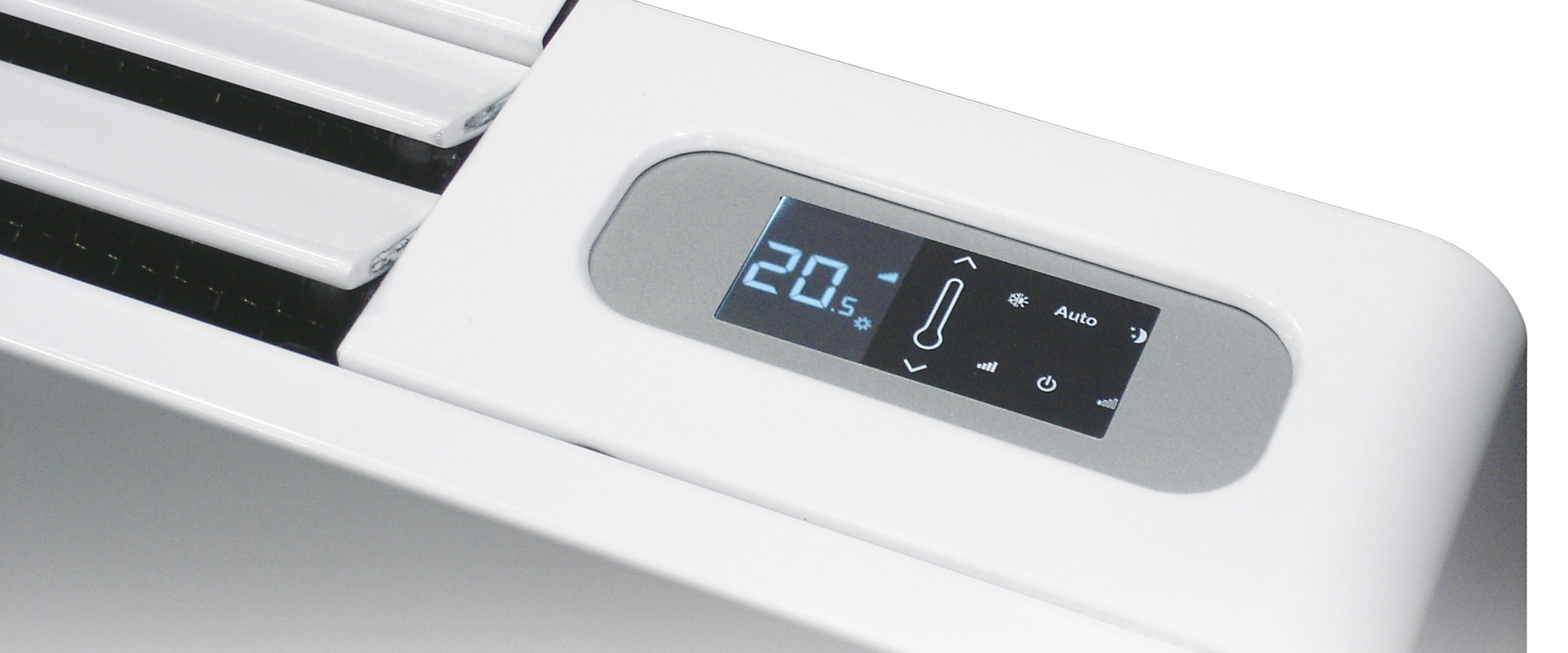 Weight a minute!
That's where new radiators such as the i-Life2 Slim can make a crucial difference as they're almost half the size of an equivalent low flow temperature steel radiator.
This new model uses copper and aluminium and holds about 10 per cent of the water needed for a traditional low temperature steel radiator, which means the 1kW i-Life2 Slim also weighs just 17.5kg (compared to around 48kg for an equivalent output radiator operating at the same temperature of 50ºC).
This makes it easier to install on a wide range of walls and finishes and suitable for almost any property.
It does require an electrical connection but the i-Life2 Slim can reach operating temperature within about three minutes – compared to 15+ minutes that it can take an equivalent double panel, double convector rad.
At just 13cm deep, the 1kW model is suitable for almost any interior.  At 737mm wide and 579mm high, the unit is almost half the size of an equivalent low flow temperature steel radiator.
So over the next few years, as we see growth in the use of renewable heat pumps, we are also likely to see some real changes coming to the way we heat our homes and the type of radiators we use.
This has to be a good thing… as long as we don't have to go back to getting dressed with a shiver!